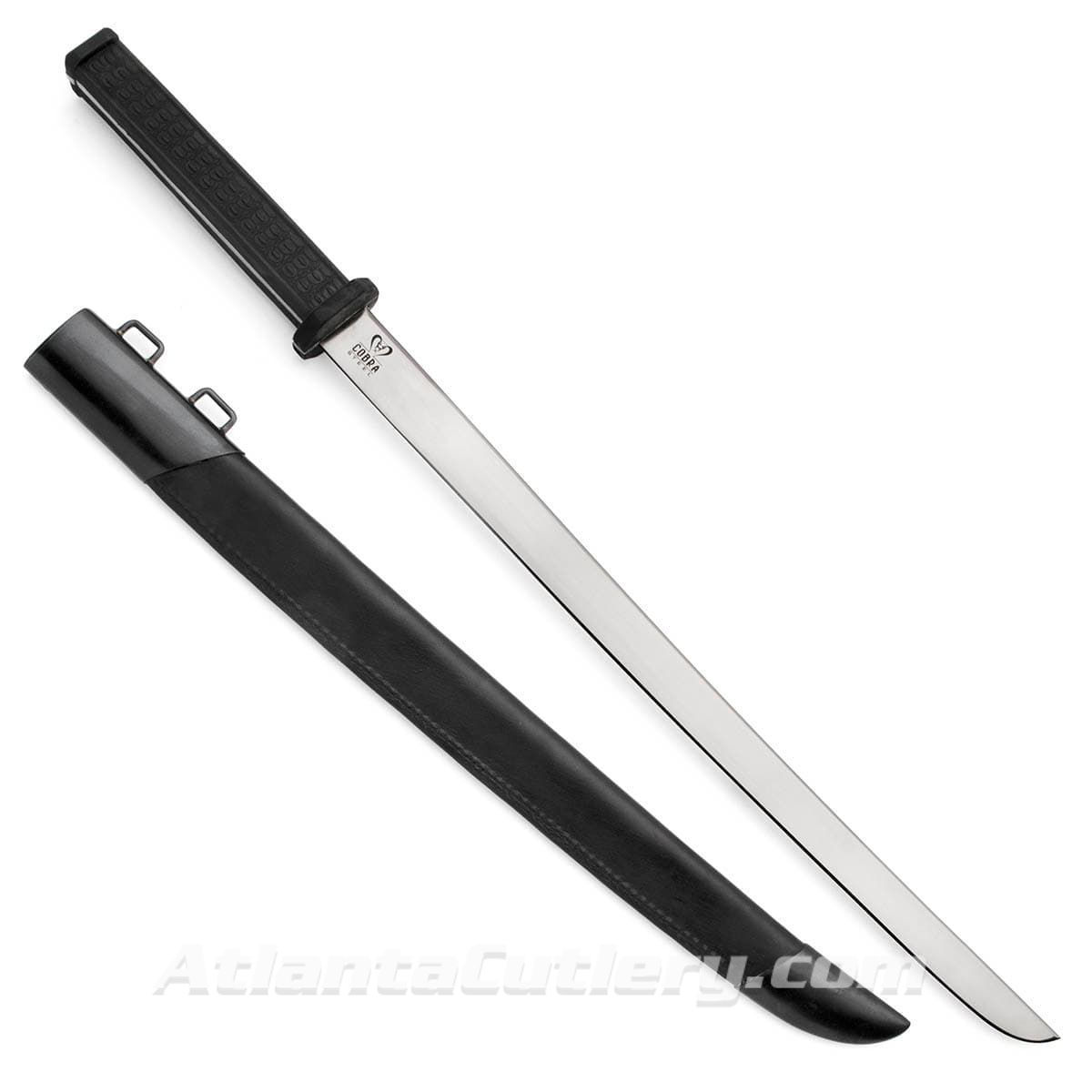 SKU ID: 501391
Availability: Out of Stock
Please allow up to 4 weeks for delivery on out of stock items.
Windlass Cobra Steel Wakizashi
$74.95
In stock
---
QTY:

Buy now
The Windlass Cobra Steel Wakizashi is our response to the several requests from bush pilots for an outdoor, rugged version of the traditional Japanese sword. The samurai always carried the wakizashi with the longer katana, even though it was much thinner and designing for softer targets. These two swords were together known as daisho (literally big-little). The samurai were known to be finicky about their swords, and our well balanced tactical chopper is up to the task.
Steel: X46Cr13 high grade stainless steel Overall length: 27-1/4' Blade length: 20' Full profile tang for strength Weather resistant rubber scales and finger guard for comfort and shock absorption Includes leather sheath with metal throat and tip Edge: Sharpened Engraving: Available (up to three initials)

Nice little sword. the handle is kind of square. getting used to it and i like it. blade was sharpish, but after a few minutes with a sharpener it will now shave. i love this sword because i can use it to do all sorts of cutting without worrying about messing up some of the more decorated swords. i highly recommend this sword
Stanley
July 23, 2021

1st off I love the blade and the balance on the sword itself. . Unfortunately the grip is completely square with no rounded edges. It makes for an Awkward feeling in your hand. But I can sand it down hopefully and it should be a great weapon.
Jim
February 08, 2021

A great sword that can be used or hung up.
Mark
September 24, 2018

For the price, you can't find a better FULL tang Wakizashi! Needed a couple of strokes with my sharpening steel when it arrived, but then it took an edge like a razor. Durable (been hacking everything in sight) and super light, it moves like a lightning bolt in wind!
Sam
January 28, 2017

I have been wanting this piece for a while and I saw it on sale and bought it. There is some fitment issues with the handle scales at the crossguard but it is just cosmetic. Still a great deal at full price! I will give it a better edge for easier cutting.
Brad
September 29, 2016

I read the 1st review and hesitated for a while and then this went on sale for 1/2 price and I ordered 2. I didn't think the oil stink was bad but I work with chemical solvents and probably can't smell much anymore, but the blade was well protected from rust and all wiped off fairly easy with a Bounty towel. The sheath was EXCELLANT and the metal ends were oiled and wiped off easily. At first I didn't really like the squared grip handles and considered rounding them off, but now I do kind of like them. I consider myself a PRO sharpener and this only came with a poor edge but the steel is good and will take a much better edge than they come with. At first look, the rubbery handles make this look like a cheap sword with a GREAT sheath and if it came with a much fancier handle it would be worth much more even at full price. I bought 2 while on sale and then bought 5 more while still on sale. I may round off the handle on 1 just to see how it feels. This is full tang so if you feel like making a fancier handle, you do have metal to work with. It really is worthy of a much fancier handle.
Frederic
December 23, 2015

Not bad for the price, there were some issues with the edge profile, i plan on rounding the grip as a matter of personal preference.
Dustin
December 22, 2015

Good value for the price. I was aware of the shortcomings of the double-bevel edge and the boxy grip. Solidly constructed and well worth the price, especially the sale price.
James
December 10, 2015

Great Sword for the price! The handle is a little more square than the usual handle, also the factory edge is rather dull. Also the grease it comes coated with is somewhat stinky. Plus plus plus. The steel is excellent. The sheath is excellent. The weight is great. I sharpened it myself and it is my favorite little sword right now. It is very prone to tarnish, so dry it right away if you get it wet. I think part of the reason I love this sword is because it was so inexpensive I don't feel bad using it all the time and getting little scratches all over it.
William
December 10, 2014