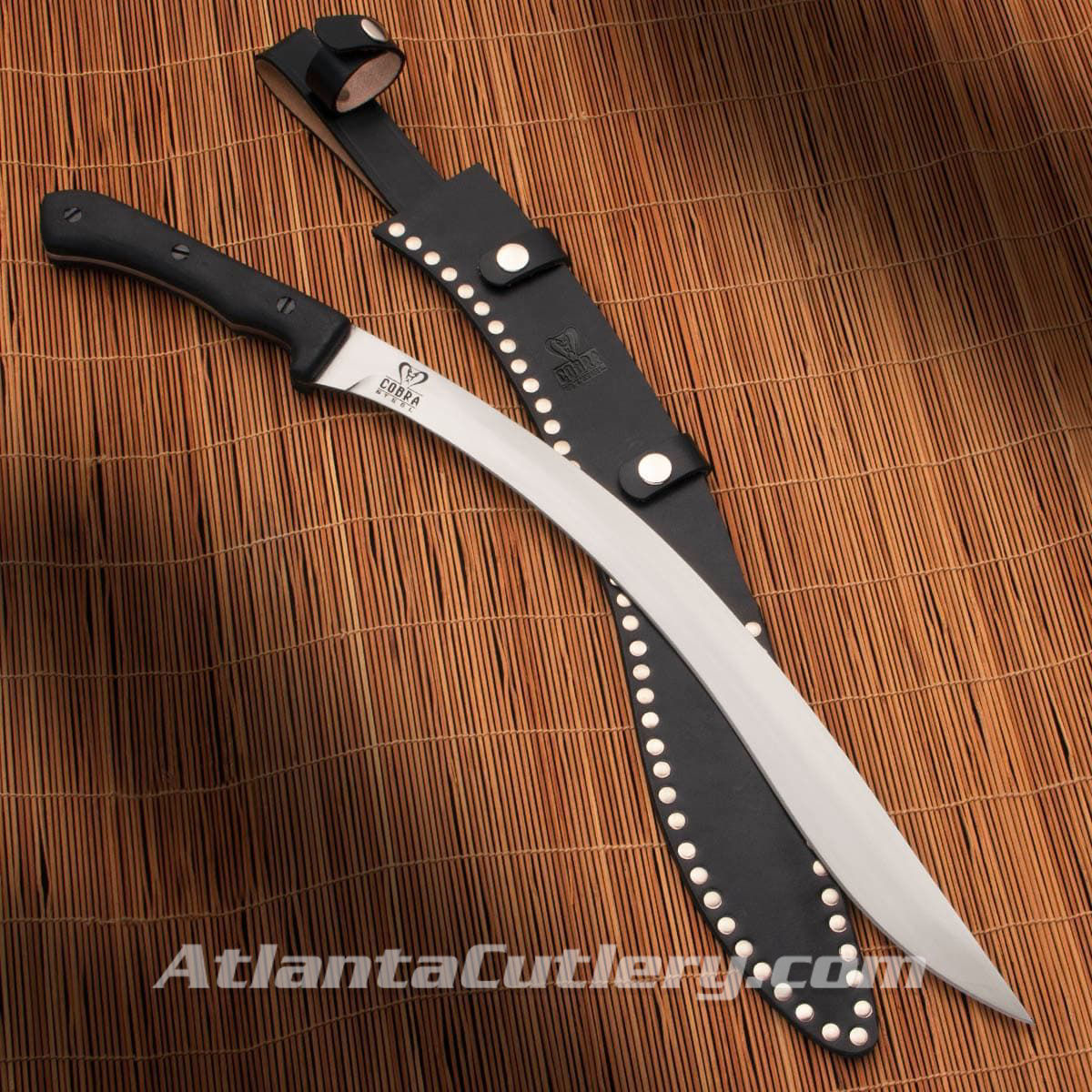 SKU ID: 403158
Availability: Out of Stock
Please allow up to 4 weeks for delivery on out of stock items.
Windlass Cobra Steel Kopis
$69.95
In stock
---
QTY:

Buy now
This Windlass Cobra Steel sword is based on the ancient Greek Kopis. Its shape lends itself to chopping, very effectively we may add. The dynamics of the blade is also ideal for thrusting, which subsequently makes it a good fighting weapon. In Ancient Greece, the kopis was a heavy knife with a forward-curving blade, used essentially as a tool for animal sacrifice or cutting meat. Though popularized by the Greeks, the kopis was not exclusive to them and Greek art shows Greek and Persian armies employing similar weapons. The kopis bears close resemblance to the Iberian falcata and the Nepalese kukri.
Steel: X46Cr13 high grade stainless steel Overall length: 22' Blade length: 16' long Weight: 1 lb/4 oz Based on the Greek Kopis Great chopping power Weather resistant rubber handle for comfort and shock absorption Includes riveted black leather sheath Edge: Sharpened Engraving: Available (up to three initials)

From my experience this sword is not light and definitely not dainty. This sword could easily hack up some wood i had lying around and a stab pierced all the way through a watermelon pretty easily. Not to mention this short sword weighs 1.6 pounds. overall i have had a good experience although the blade did come caked in grease.
Adam
June 27, 2019

I generally like the Cobra Steel products. But not this one. It is just too light to cut, and too bendy to thrust. It may have been a historical style, but mostly useless. I say yes, Buy Cobra Steel. But not this one! I have seen others of this style and they do not work well either.
Kevin
September 15, 2015

When I received this item the plastic wrapper was stuck to the blade (which had caked-on grease); however, after 3 cleanings this turned out to be a beautiful short sword with an almost mirror finish blade. The sheath also required a serious cleaning but after 3 cleanings turned out to be top-quality leather (suggestion to the staff: invest in some dessicant!}.
Tom
December 19, 2011