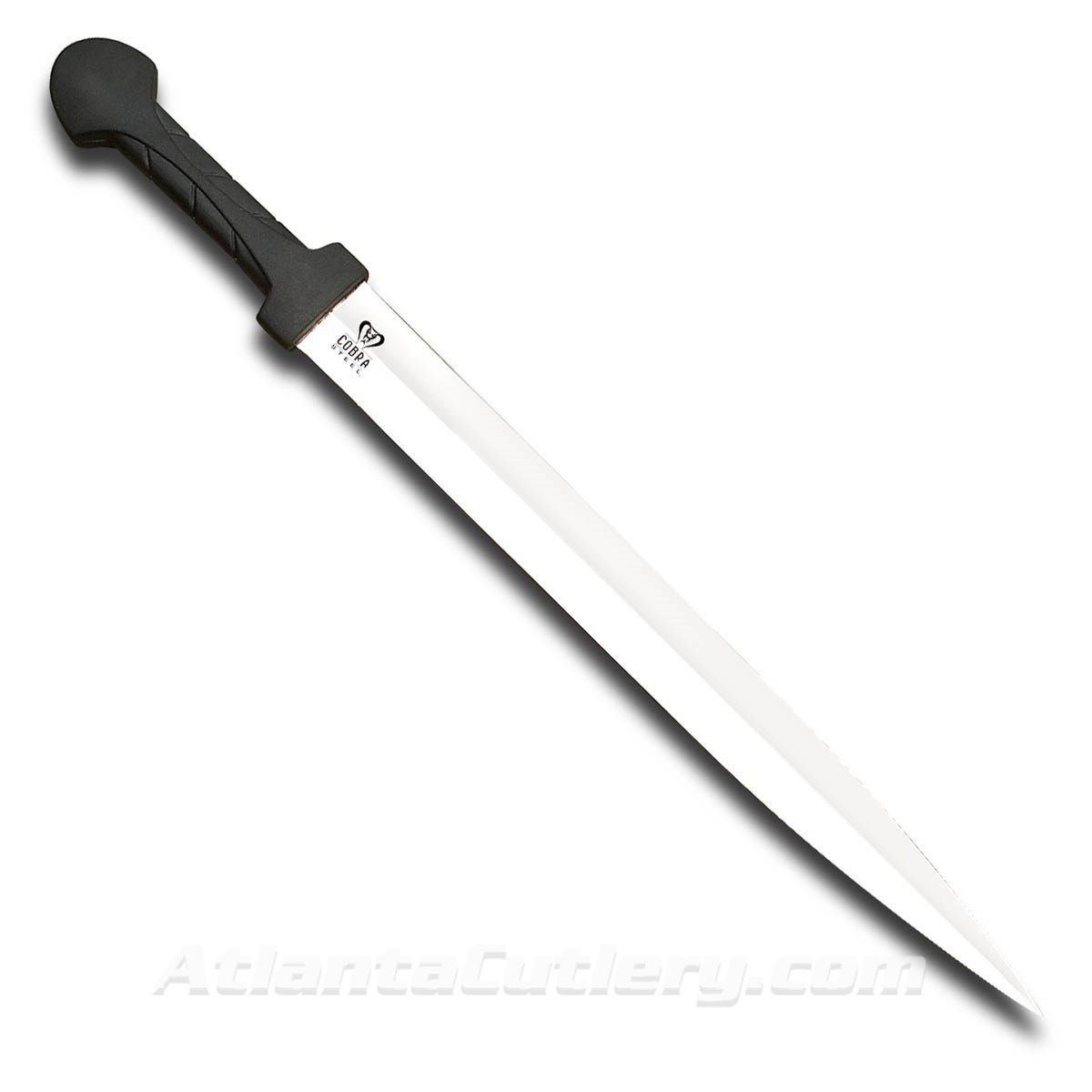 SKU ID: 402578
Availability: Out of Stock
Please allow up to 4 weeks for delivery on out of stock items.
Windlass Cobra Steel Kindjal
$59.95
Reserve now and allow at least 4 weeks for delivery. Cannot be reserved for international shipping
---
Please select service
Choose Font Type
QTY:

Add to Cart
The kindjal is a double-edged dagger which can be classified as a short sword. It is similar to the Greek Xiphos, the Roman Gladius, and the Scottish Dirk. Popular in the Caucasus region of Georgia, this dagger served the Russian armed forces with great distinction well into the mid-20th century. The kindjal is proven over a long history of use and is an exceptional self-defense knife. Our kindjal is based on the
original Russian version.
Steel: X46Cr13 high grade stainless steel Overall length: 23-1/2' Blade length: 17' Blade Width: 1-5/8' Blade Thickness: 3/16' Weight: 1 lb / 2 oz Weather resistant rubber handle for comfort and shock absorption Riveted leather belt sheath Edge: Sharpened Engraving: Available (up to three initials)

This blade comes very sharp for the type of blade it is. You don't want a hair shaving sharp edge on this side of blade. The sheath takes some breaking in, but the blade itself is very comfortable in large hands and it's very very pointy. I'd say it's a very worthy blade for home defense and possibly for self defense If you're particularly brazen.
Bradley
August 07, 2020

This is an awesome value. Great home self defense tool. Pointy, great rubber grip, fairly light. Pay extra for sharpening! Finish is not perfect. Great 1st short sword. Can't go wrong with the Kindlal!

September 23, 2018

This is a very nice 21st Century version of a classic blade pattern. Good weight, decent balance, really good steel and a GREAT handle! On first handling this blade I was stuck by several thoughts the first of which was " Holy $!*% I better be careful with this thing" The tip has a very sharp point almost like a rapier and after a few passes with a diamond stone the blade took a razor edge. My second thought was " This was nicely done, l really like the handle and this is very good steel." I will doubtless buy the Lakonia and then start asking Windlass to make a Gladius and Pugo in Cobra Steel
Matthew
June 16, 2018

Super pointy. Sheath is good. Edges sharpened, but not "sharp". Won't cut paper. Satin finish is not very good (blemishes/rubs). Rubber handle is a little ashy (dried out). I rubbed a small amount of plumber's silicone grease on the handle. The handle is better, darkened up, and still grippy. Despite my critique, you won't find a better short sword for the money.....maybe not even for twice the money. I believe it is full tang. This short sword should be pretty indestructible if not grossly abused.

April 27, 2017

Pretty much everything my 110 pound butt ever wanted!! Wanted it for four years. Just never had the extra cash or time. Until Now. The paracord is an interesting idea - but not required. Diggin' the grip. I read a while back that these handles will corrode on you, but I can't wait to make my own handle...so :) Yeah - I gave it five stars, but... The blade is scuffed up out of the box, and there's a nick in the blade like someone at fedex played with it...which totally blows - I basically got the personalized edition on a butt-smeared blade! Also should have been specific on the placement of my initials. They put it up and to the right of the logo, instead of directly and vertically adjacent - matching the logos height. (Thanks a lot)Looks like my new knife has bumper stickers!! THIS IS NOT SHARP!! Yeah sure you might be able to SAW a cut into your hand or pant-leg after say 10 or 20 attempts. Definitely going to have to regrind the un-even grinds all the way down - since some lazy-mazy decided to stop 3" from the hilt. Will re-review after honing. I'm sure it'll be great...but what an ugly thing to wait four years for. Definitely not the sheen from the picture or Skallagrim videos. Sigh - Still love it...Still wanna be it's daddy!
Charles
May 23, 2015

For the price it's a great little peice that being said, I have added a 550 cord wrap to the handle cause I have large hands and the grip feels great now. The factory edge couldn't cut paper so had to touch it up. The price range of this I am not upset about any of that. Once I put it thru some paces I'll update more
Mike
May 21, 2015

When I received my kindjal, I was impressed by the weight and look of the sword. The sheath is snug so the sword would not come out easily unless you want it to.. the only problem I have, is that I have big hands, and the handle is quite thin....so I bought some tennis handle grip to bulk up the thickness, and it feels just rights now.
Isaiah
January 14, 2013

Love it. good grip, came fairly sharp, and nice sheath! worth it!
Gabriel
July 16, 2011

From the picture this seems to be a thinner and more expensive version of the Qama (ID#400164).
Martha
July 26, 2010