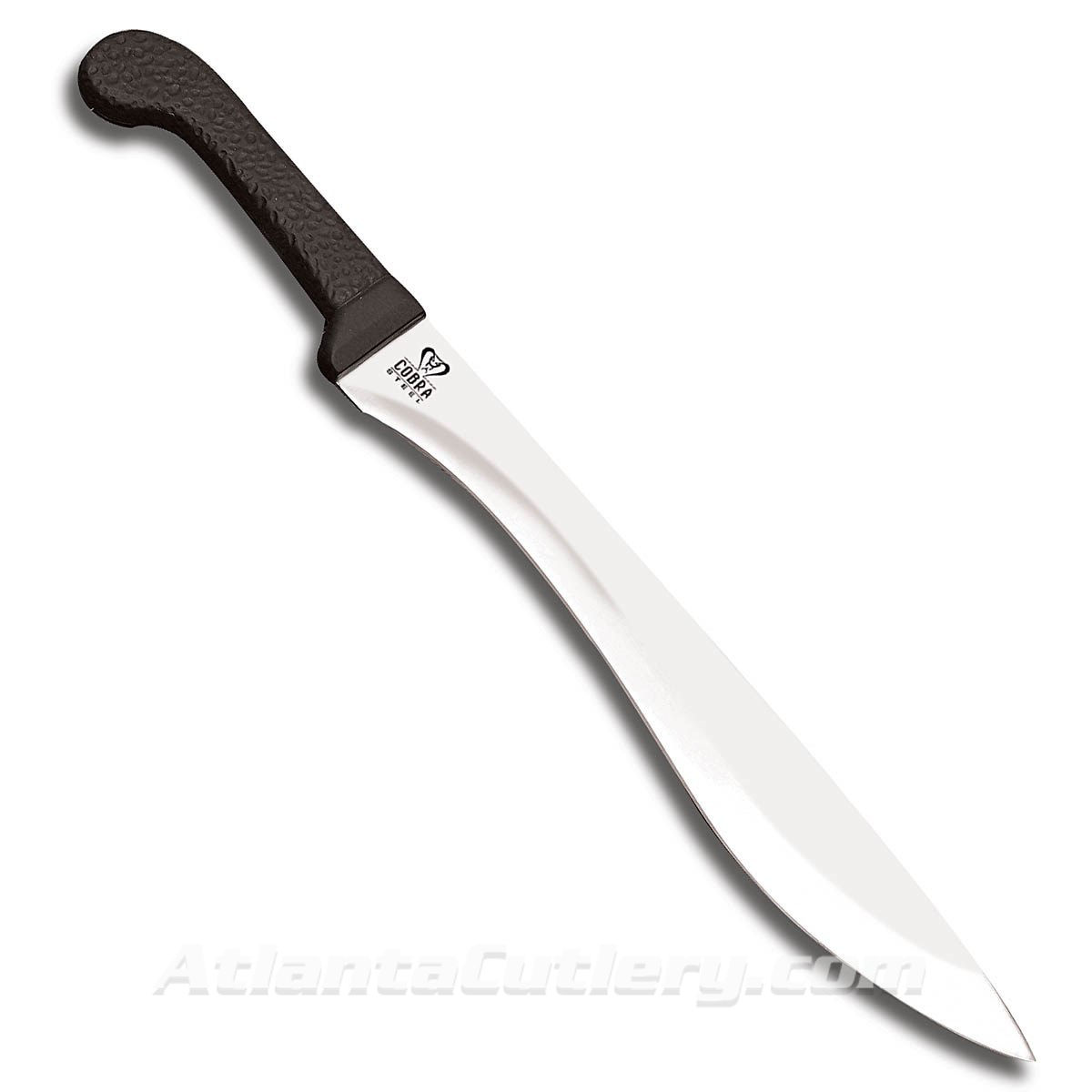 SKU ID: 402532
Availability: Out of Stock
Please allow up to 4 weeks for delivery on out of stock items.
Windlass Cobra Steel Falcata
$69.95
In stock
---
QTY:

Buy now
The falcata is a curved sword that was popular in the Iberian Peninsula. The true origin of these short swords is unknown, but there is little doubt that they were effective cutting blades. In many ways the falcata resembles the kukri. The Spanish wielded the falcata to great effect against the Roman armies back in the day and the enemy had tremendous respect for the blade – modern Roman writers have described how the weapon had the capacity to split both the shield and helmet. The falcata has among the best chopping designs of all knives in history and our Cobra Steel Falcata is no different.
Steel: X46Cr13 high grade stainless steel Overall length: 20-3/4' Blade length: 14-1/2' Blade width: 2' Blade thickness: 3/16' Weight: 1 lb / 4 oz Rubber handle for better one-hand performance and shock absorption Longer grip for second hand hold and chopping power Includes riveted leather belt sheath Edge: Sharpened Engraving: Available (Up to three initials)

Strong, well balanced, handle grip excellent, very sharp and ready for anything. If you like a Kurkri you'll love this blade.
Thomas
September 11, 2022

Beautifully made, and very well made, if I ever get into a sword fight, it'll be a fine weapon
Aaron
July 08, 2021

I was very happy with my falcata. It is a very effective short sword with a point-heavy, good solid feel. Just ordered a kindjal to match it and it want to check out a qama after that. Either way, Big shout out to Windlass Steelcrafts who also made my spearheads. Fine quality! Five Stars!
Kevin
September 20, 2020

Ever since I watched how effective the Falcata was on FORGED IN FIRE, I have wanted one. I have also declared war on the tallow trees in the back of my five acre yard. When I saw this Windlass Cobra Steel Falcata in the Atlanta Cutlery Catalog. I jumped at the the chance. Nothing prepared me for the actual quality of this blade or the sharpness of the blade. One quick swing cleaved a 2 inch branch. The rain has changed my backyard to a swamp and I am looking forward to my next expedition into that war zone.
Leonard
August 25, 2019

I found the Cobra Steel Falcata to be all that I expected it to be. For me it was well balanced very durable and sturdy blade, it just felt good in my hand.
William
August 16, 2018

Finally found a brush blade that I like better than my kurkri blade. The handle design is perfect for some serious chopping power as well. Overall great blade and good enough sheath.
Joshua
November 30, 2016

Cobra makes top weapons
Seth
June 27, 2013