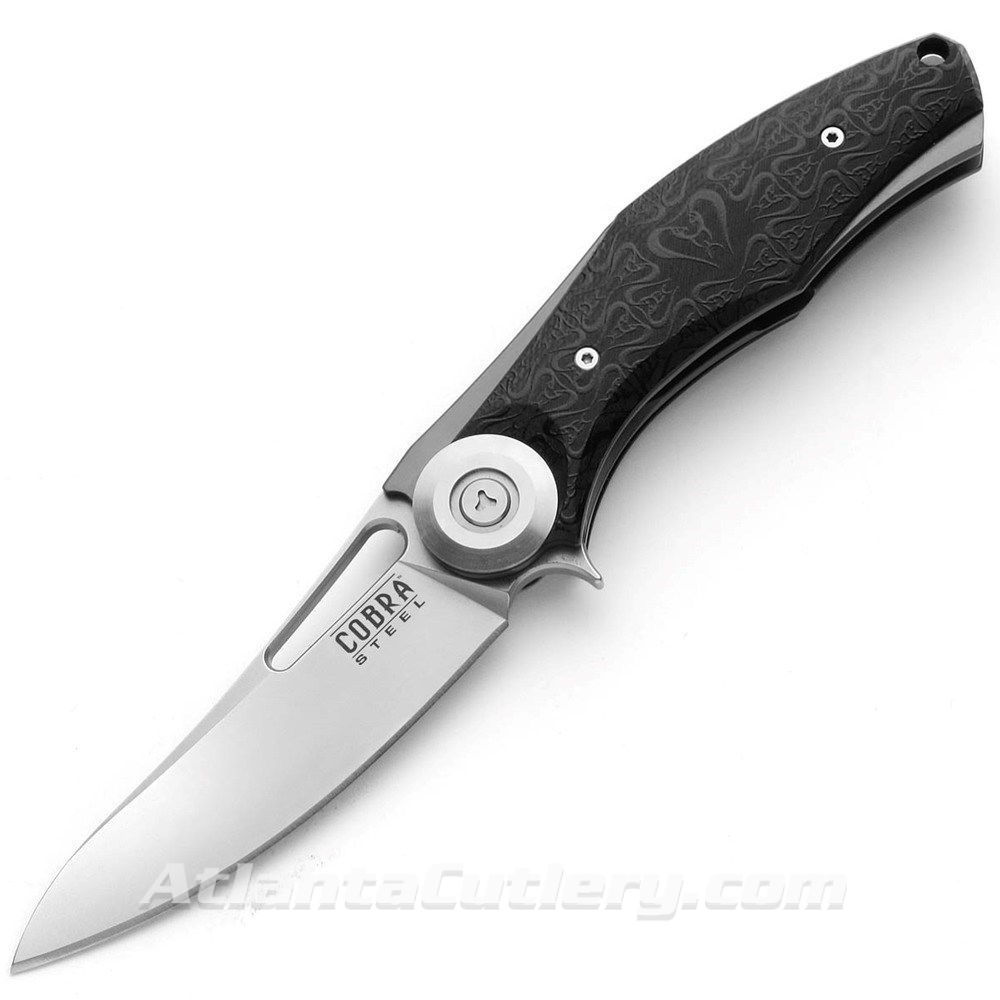 SKU ID: 404278
Availability: Out of Stock
Please allow up to 4 weeks for delivery on out of stock items.
Cobra Steel Sweeping Drop Point
$79.95
$39.95
In stock
---
QTY:

Buy now
The Sweeping Drop Point folder is a durable, medium-weight EDC that is effective for thrusting and slicing actions. The razor sharp, D2 tool steel satin-finished blade exhibits laser etchings and is hardened to a 59 RC. The liner is titanium coated and the pivot features industrial grade, stainless steel ball bearings for optimum and effortless function. G-10 scales with Cobra Steel patterns. Overall 8-3/4" and blade length of 3-3/4". Includes satin-finished pocket clip.
Overall Length: 8-3/4' Blade Length: 3-3/4' Material: D2 Tool Handle: G-10

This was my first purchase with Atlanta Cutlery, so I was a little nervous about confirming the purchase. All of my items were shipped to me in a timely fashion, with no errors in my order. The Cobra Steel Sweeping Drop Point knife feels well constructed. The blade flicks open smoothly, and locks in sturdy. The blade is sharp right out of the box. The clip is stiff and flush to the handle, which makes it a little harder to clip onto things (I guess that's good, for it will probably never fall off). I think the clip operation will become easier over time. The last thing is that my three pronged screw is a bit off-centered, but it seems to be simply an appearance issue. Overall, I am pleased with this knife.
James
April 11, 2021

Recently bought this knife . Its living up too it's expectations and mine as well . Very sharp , excellent D2 steel , and solidly made and nice looking too . Opens good with a flick of the finger . Will be in my pocket for a very long time. Buy it at this great price !
John
January 31, 2020

I purchased the Iris Leaf, companion knife to the Drop Point, and left a review for that one which I like better. he Drop Point is also a very nice a nice knife. What the descriptions don't state is that the Drop Point has a thicker blade, the handle is also a bit larger and fills the hand nicely for a firm grip, this makes the liners larger and add the SS washers for the pivot point all this adds weight to the knife. The Iris Leaf is 118g (4.2oz) and the Drop Point is 179g (6.30z). Easy math. One other issue for the Drop Point is being that the blade is so thick the liner lock needs to be pressed down quite a bit more to clear the blade for closing. Still a quality knife at the closeout price its worth getting.
Brad
September 08, 2019

I read some reviews of this knife. It seems people have unrealistic personal views of what makes a good edc. I have very many folders and can tell you that this knife is my absolute favorite. I am an ex sog operative from team 86 Vietnam 1969. This knife is way beyond the curve of what makes the perfect edc folder. I have cold steel, benchmade, boker, and every other high end production folders. This knife has no flaws, no bad manners, and is the most capable folder I own, with regards to price, quality, and usefulness. If you are looking for a four inch folder that is ultimately comfortable, and surely capable as a defensive weapon, I never feel underarmed, or underknifed with this Cobra beauty. Keep up the good work and sell a zillion of these perfect pocket knives. I am tempted to buy me a second one for good measure. Five stars and more.
Ronald
October 20, 2018

Does anyone know where the hell I can get a bit / screwdriver for that weird, three-pronged torque screw?? I've looked, and can't find it's match. It would be good if they could send one along with the knife. Otherwise, it's a keeper. 4 stars

May 08, 2018