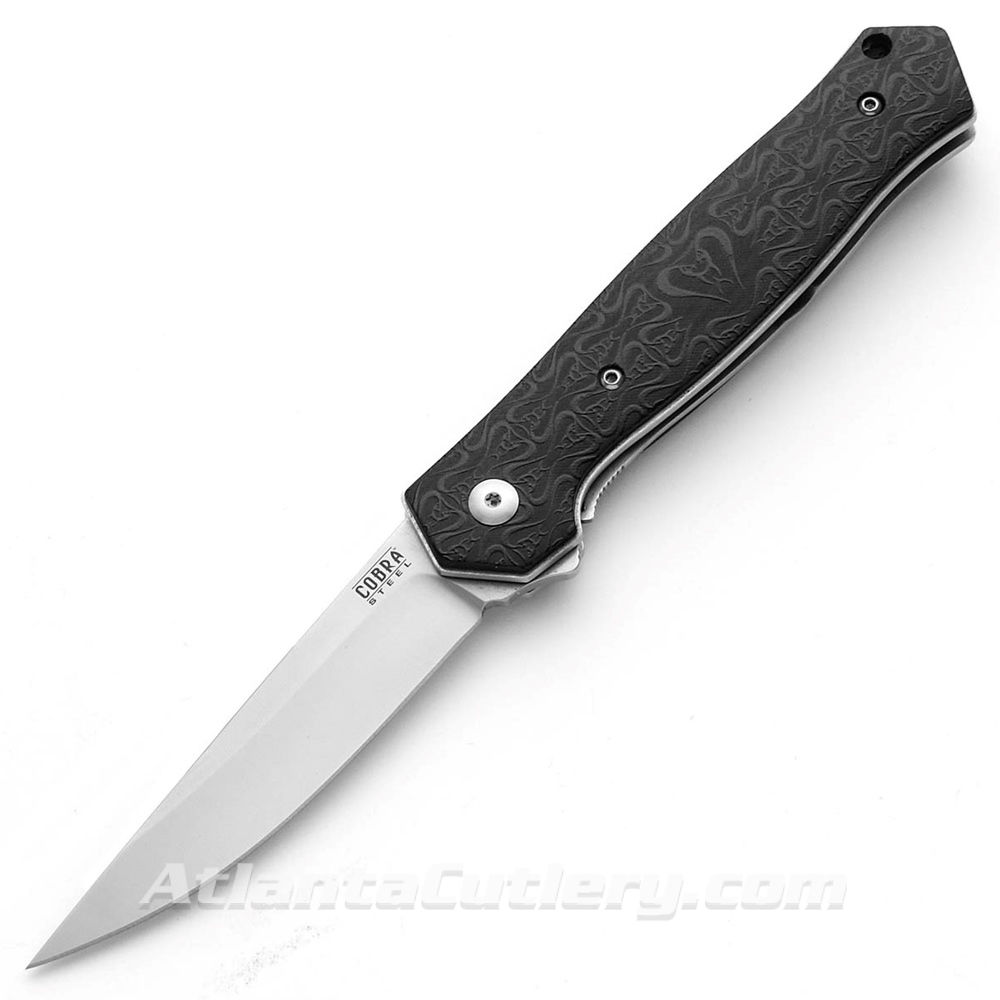 SKU ID: 404277
Availability: Out of Stock
Please allow up to 4 weeks for delivery on out of stock items.
Cobra Steel Iris Leaf
$79.95
$39.95
In stock
---
QTY:

Buy now
The Iris Leaf folding knife is an appropriate homage to the blades used by the Samurai. This slender, razor sharp drop point folder is a durable D2 tool steel EDC and the blade is hardened to a 59 RC. The pivot has industrial grade, stainless steel ball bearings which enables a smooth function. G-10 scales with Cobra Steel patterns. Overall 8-1/2" and blade length of 3-1/2". Includes matching satin-finished pocket clip.
Overall Length: 8-1/2' Blade Length: 3-1/2' Material: D2 Tool Handle: G-10

Very pleased with the quality of this blade. Though I know the handle is G-10, it has a texture that needs to be felt to be appreciated. Smooth but "grippy" at the same time. Razor sharp D2 doesn't disappoint either. Sweet addition to my collection.
Harold
June 30, 2021

This is a nice knife. It is sharp and with a little extra time you can have a shaving sharp edge. Opens and closes very smooth.
Mark
February 17, 2021

I really like this knife. First of all, I've never gotten a deal on a good knife like I got on this one. VERY reasonable - a bargain really. The knife is good looking, functions well as a "Flipper", and is made from good materials and alloys. What's not to like about this Knife?
Jesse
November 17, 2020

I can't say enough good things about this knife. Its lines are sleek and clean. The profile is nice and slim but because of the high quality of the G-10 scales it never feels flimsy. Mine arrived with a very slight amount of side to side play but a quick tightening of the pivot pin with a Torx wrench and the lockup was absolutely rock solid. The D2 blade is so much tougher than the 440C you usually find on knives in this price range. While showing it off to a buddy, it was knocked out of my hand and fell tip first onto the concrete floor. The point was slightly blunted (a few minutes on a diamond hone and it was back to new) and the lockup was completely unaffected. I have been nothing but impressed with the way this thing looks, carries, handles and cuts. I'm already thinking about purchasing a spare. Highly recommended!
Charles
April 10, 2020

Very nice knife. I thought the original price was a bit high but the sale price is right on and at that price I might just get the matching drop point.
Brad
August 31, 2019

Excellent knife - looks good, great construction, opens easily and positively.
Jim
November 06, 2018

Great pocket knife for everyday use. Ships sharp and the edge is durable, I use it often and haven't had to sharpen it yet.
Jerry
October 15, 2018

I am not happy with quality of knife!! The handle 's look cheap,For the price i paid i expected a nicer knife!! I had a discount code for 10% off yet when i cashed out there was no where to enter code!! I'll not buy anything else from ACC the quality is just there!!!
Carl
July 30, 2018